The Soft Province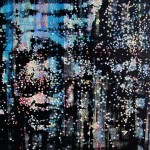 The debut album from Jace's side project, THE SOFT PROVINCE, is out today!
It was recorded partially by Jace at Breakglass Studios in Montreal, and partially by Mike over a period of two years in Regina, Canada. In August of 2008, Mike flew to Montreal armed only with a 12-string Fender Coronado and over thirty different recordings of song ideas and loose structures. Jace helped to organize, edit and arrange the album, adding extra instrumentation and finally, vocals. In November 2008, they mixed the album at Breakglass. The final product digs into the duo's love of layering sounds and instruments, and using the studio as a way to achieve it.
Drawing on Mike and Jace's love of the pop song and long repetitive drones, the album spans the distance between the concise pop song structure of Francoise Hardy and the psychedelic organ drones of Broadcast. Guests include Jace's wife and Besnard Lakes band mate, Olga Goreas, Max Henry (Suuns, Young Galaxy) and Jonathan Cummins' 1965 Fender Jazzmaster.
Check them out on Facebook or Myspace
You can buy the CD on the online store, or a digital copy on iTunes.